I did get this finished in time for Finished Object Friday, but was too busy to actually write the post up, whoops.
Here is my finished crocheted radioactive cat: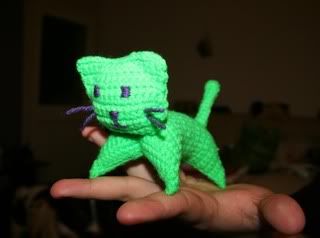 Made using this pattern from Marmalade Rose. The yarn is a really bright lime green but I couldn't get the camera to pick up the real colour. That's my partner's hand by the way, I don't have man hands.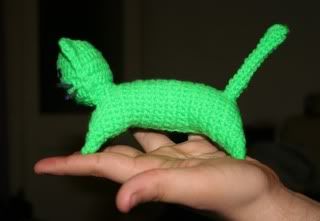 It's a really simple pattern. The body of the cat is a square (although mine came out rectangular...) and the head is a shaped piece made using decreases ad increases. It's then folded to the right shape, stuffed and sewn up. The tail was the trickiest part. It's just a tiny hollow tube. I couldn't figure out what the pattern wanted me to do to start the tail so I just played about until I got something that looked right. I sewed a face on with purple yarn, because I don't have any black, or any embroidery thread yet.
So that's my first attempt an an amigurumi. Jess approves anyway: