A couple of weeks ago I came across
this post
on
Nothing But An Apron
about homemade shampoo and conditioner. Being a fan of chemical free products and things you can make yourself I gave it a go and was very impressed by the results.
What's in standard shampoo?
Shampoo and conditioner can be expensive depending which brand you favour, and if you take a minute to look at the ingredients you'll probably find a long list of unpronounceable chemicals. For example my L'Oreal shampoo contained "ppg-5-ceteth-20" and my conditioner contained
"methylparaben"
and "dipalmitoylethyl hydroxyethylmonium methosulfate" which comes from palm oil.
In fact most of the ingredients that I looked up were only there to make the product look or smell better rather than actually clean your hair, and most them were either bad for people or the environment.
Homemade shampoo and conditioner
The recipe posted on Nothing But An Apron contains only two ingredients plus water, and you may well already have them sat in your kitchen cupboards. Ready? Here they are: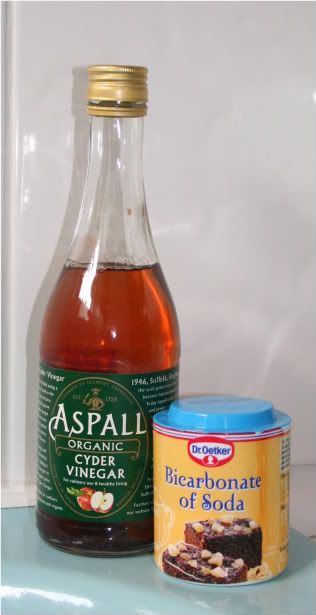 Make your own shampoo by mixing a few teaspoons of bicarbonate of soda with water until it is a similar consistency to regular shampoo. Massage the mixture into your hair and scalp, it won't be foamy but don't worry. When you're ready rinse it thoroughly with clean water, making sure you've got it all out. Bicarb is a well known odour absorber, and massaging the grainy mixture into your hair and scalp will shift dead skin cells and improve dandruff if you're a sufferer.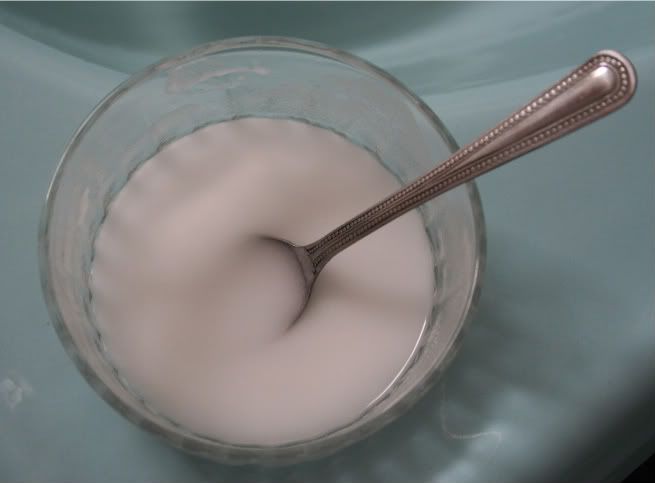 The conditioner is simply a couple of tablespoons of vinegar added to a small jug (or some cups) of warm water. Pour over your hair then brush it through. Apple cider vinegar is the variety that was recommended although apparently it will work with any kind of vinegar. I do one last rinse after this with clean water again, but I'm not sure if it's necessary. Once your hair is dry you won't be able to smell any vinegar.
That's it, cheap and cheerful. You'll probably need to experiment with the quantities depending on your hair length, mine is just brushing my shoulders. I don't know how this mixture works on permed or dyed hair so you'll have to let me know if you try it.