I realise I've been quiet again. I wish I could tell you it's because I've filled all my time with wonderfully interesting things and haven't had chance to blog them, but really I haven't got a clue where the time's gone or what I've been doing. I suddenly find myself at the end of June with no posts to show for it.
I have done at least one important thing this month however. On Friday night I did the
Midnight to Sunrise
walk in support of my favourite charity,
The Douglas Macmillan Hospice
. It's a 10 mile walk around the city streets, starting and finishing at the Brittannia Stadium. It kicks off at midnight and you're expected to finish before morning. This is the third year I've taken part, this year I finished in 3 hours 25 minutes, although my best one so far has been 3 hours.
It wasn't too bad this time even though I didn't train for it. Unfortunately the Hospice's colour is yellow and I always look awful in a yellow t-shirt. It's all for a good cause though!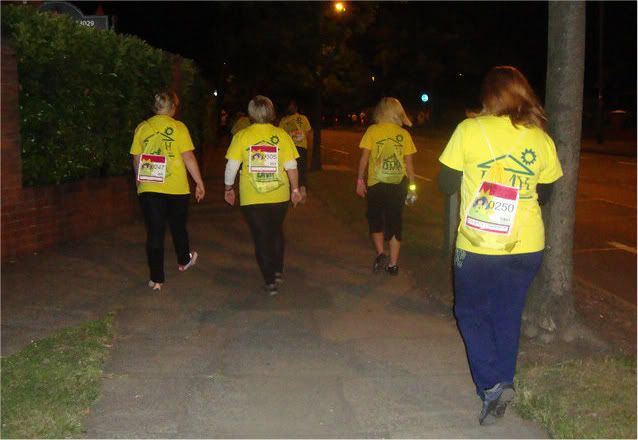 I walked with my auntie and 3 of my cousins, in memory of my
mum
and my Uncle Ron, both were cared for by the Hospice in their final days. It's sad that this year there were less walkers and volunteers than usual. The Hospice always relies on donations to keep going and they've struggled in the poor economy like everyone else. I've seen the good work they do first-hand, I ask everyone to support them (or your local Hospices) as you never know when you or someone you love will need their help.