Shhhhhhhhh, I know it's a day late, but I didn't finish one of the projects till last night and didn't have time to blog. As always, Finished Object Friday is hosted By
Tami
, and you can check out what other people have been doing on her
blog
.
First up, a crocheted penis. Made as a joke gift for a hen night party. Excuse the quality of the picture as I forgot to take one myself and someone had to send it to me after the party. The pattern is
here
if you're interested, I ran out of time to make the testicles so I just stuffed it and sewed up the end. The hen just couldn't guess who made it, mwah ha ha ha. ;)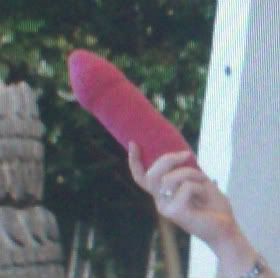 I also finished the granny blanket for my nephew, and have exchanged it for one of his old ones to see if I can repair it as he uses them for security objects (he's very nearly 2).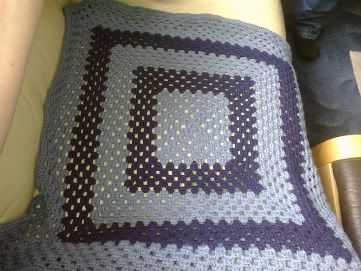 The
munchkin hat
is also done, and was fun to make, although I currently have no access to a newborn to see if the size is right. I'll have to wait till January. It was also a first attempt at a pompom, and I got really bored wrapping the yarn and gave up a bit to soon, so it could have been fluffier. I would definitely make this pattern again, but first I have to find someone quirky enough to want one as a gift for their newborn.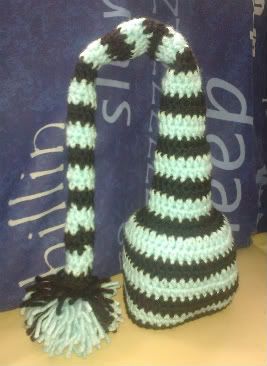 And last but not least, this is what I finished last night. My first sewing machine project! I've wanted a roll for my crochet hooks for a while, and since I finally figured out the basics on the machine (like go and stop!) I thought this would be a good first project.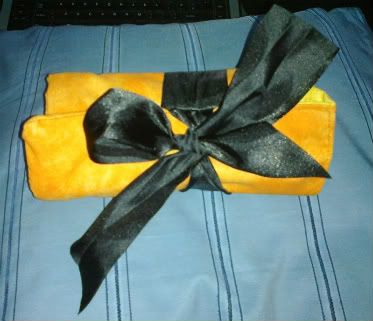 I couldn't find one pattern that matched what I wanted, so I combined elements of this one at
Planet June
and this one at
Today We Made
and drew up my own pattern.
It's a little wonky in places, and not all the stitching is perfect, but it has space for new hooks I don't own yet. ;) If I get brave I'll post my version of the pattern another day.
I'll be able to blog my wedding photo's soon, I've had to wipe and reinstall my laptop but now it's all tidy again I have room to put the photo's on the hard drive for uploading.