Merry Christmas everyone!
Now that everyone has received their gifts I can finally share some pictures with you. We haven't gone completely homemade this year but we have done a few handmade presents.
Firstly a secret santa gift for someone on a forum I use. They said on their inspiration list they liked handmade things and celtic art, so I decided to try a crochet scarf with a celtic knot pattern on each end. I used the "
Dan's minimalist scarf
" pattern from Ravelry and combined it with the chart pattern for a celtic knot from the "
Vantar mittens
" from
Inside Crochet
magazine.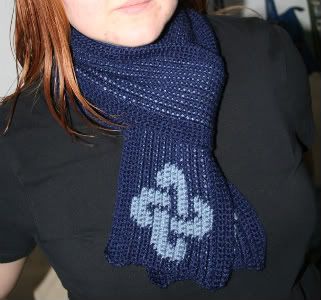 I think it came out quite well. It was my first crochet scarf, my first attempt at following a chart and my first go at carrying a second colour through the stitches. I lost a few stitches somewhere along the way and it's a bit wavy on the edges but not terribly noticeable when worn.
Next was a crochet blanket for a friend. I used a pattern for a
granny rectangle
as I didn't think a square would make a good blanket (I didn't have time to make a square big enough!). I love granny stitch as it's really quick to make but all the colour changes meant about 50 ends to sew in before I could call it finished. I completed this in the early hours of christmas eve because I'd been putting off the sewing till the last minute.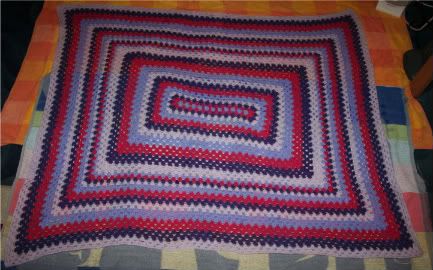 For my partner's mum I made a convertible hat from
this pattern
. It can be worn as a scarf or be tied up one end and worn as a hat. This one I finished in the early hours of this morning. Next year I really need to start making things earlier. Christmas sneaked up on me somehow this year.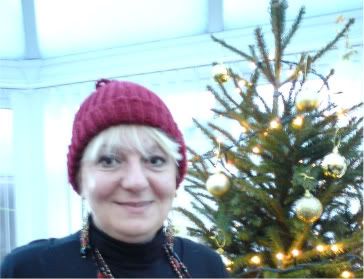 Remember the
sloe gin
I started back in September? That has been bottled and labelled. Some were given as gifts, some are being drunk today by visitors, and I've hidden one in the back of a cupboard to warm me up next autumn when I get in from picking the sloes for the next batch!
We also made some
balsamic pickled onions
, following a recipe from the
Hairy Bikers
. No one has tasted them yet so I hope they turned out ok. My partner did the labels for these and he named them Hairy Pickles, in honour of the bikers.
Whatever you're doing today I hope you're all enjoying yourselves!
P.s. I added this post to Tami's FO Friday party, even though it's technically FO Saturday.