I've attempted foraging for the first time today. Quite successful I think, as I've come home with 450g of rose hips (two different varieties) and 1lb (454g) of sloes.
I'm not sure if I'm too early or late for the rose hips. One variety is quite soft and the other is still hard. I'm going to attempt rose hip syrup with them anyway. I'm just waiting to find out if I can mix them or not...
I was surprised to find the sloes so easily, I was walking on greenbelt land that used to be a railway line for a coal mine. Sloes are a lot smaller than I'd imagined them. Only about the size of my thumb nail. I picked the slightly softer ones that had a bluish tint, there are plenty more that are still really dark and hard so I may well head out again when they're riper for a second batch.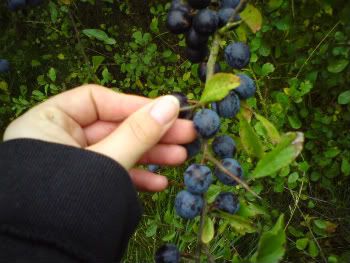 One of the dogs, Jess, surprised me by happily munching the sloes right off the branches that she could reach! They're supposed to taste disgustingly sour. She's a strange dog, she nabbed some of my strawberries straight from the plants and started on the blackcurrant bush over the summer, I think she's part goat...
Anyway, the plan for the sloes is of course sloe gin! I just need to pick a recipe now and figure out what kind of container to make it in. I've also got a recipe for "turbo cider" I'm going to try once I've got a demijohn for it. Busy busy busy. I will of course share recipes and results on here once I get going.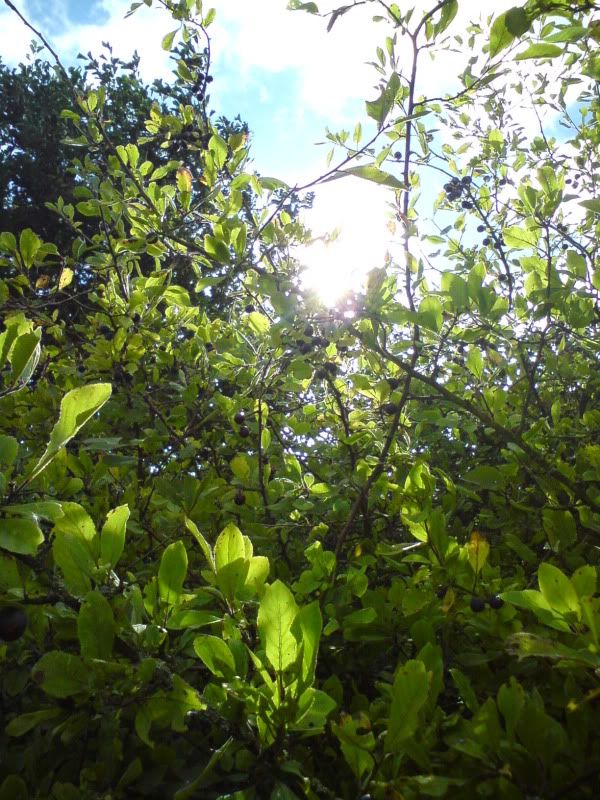 Apologies for the shoddy photographs, they're from my mobile phone which wasn't being entirely co-operative today.