So apparently autumn is upon us already. It's been really windy and wet here (interspersed with the odd bizarre summer day) and the leaves are falling. All of my container grown potatoes have been dug up and stored away, and I only have a few carrots left in the pots. I have two apple trees but they only managed three apples and two of those blew off in the wind, so I'm not doing very well on the fruit front. They are only recently planted though and the dogs did eat all the lower branches so they've done quite well to survive at all.
I'm hoping to build some raised beds next year and get more planted in the ground rather than pots.
I've been thinking about trying a veg box until I get better at growing my own, and after reading this post at Useless Beauty Designs I decided to try a box from Able and Cole. They deliver in my area every Friday and apparently my driver is named Dave, I didn't get to check that though as he had come and gone before I got up this morning. I ordered the small fruit and veg box which is suggested for 1 or 2 people.
My partner Sam almost stepped on it on his way out of the door at 8 o'clock! The box was a bit soggy at it's been raining, if I keep getting boxes I might have to build a shelter for them to be left in...
Inside the box I got potatoes, carrots, sweetcorn, broccoli, onions, apples, plums, and grapefruit, and a bonus snail, but luckily he hadn't had time to munch on anything!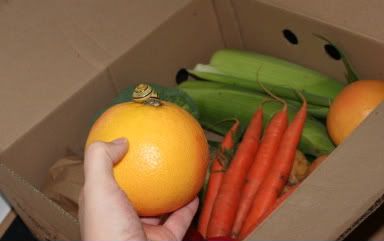 The box I chose has fairly basic veg in it, but Sam is not very adventurous yet so that's ok for now. They do have other boxes which promise more exotic choices. I haven't decided yet if I will keep having the boxes. On the plus side they contain mainly organic fruit and veg, they don't support a supermarket chain, they are delivered in re-usable and recyclable packaging, and I don't have to leave the house to get them! On the negative side they are more expensive than normal shop bought stuff.
Hmmm..... decisions.......