I have a theory that Stoke-on-Trent is a bit of a black hole. Innovation doesn't seem to be a quality we possess and we always seem to be at least 5 years behind the rest of the country. For example we only started recycling plastics last year. What's that got to do with anything? Well when I was 13 I discovered a religion called Wicca, and decided that it made a lot of sense and I'd like to become a wiccan. I had a look around and discovered that there weren't any local groups at all (unless they were in hiding, in which case they still wouldn't be wanting new members). A good group won't accept members under 18 anyway but I was at least hoping to find one for the future. Finally in 2008 (then about 22) I found a listing for a new group and joined the training coven. We've been together now just over a year and last night celebrated Imbolc together.
Imbolc is one of the fire, or light, festivals. It's a time when spring is not quite upon us, but the sun is growing stronger and the earth is waking up and preparing for all the new growth to begin.
And here's a pic of me consecrating the salt, wearing a robe that I only just finished sewing in time!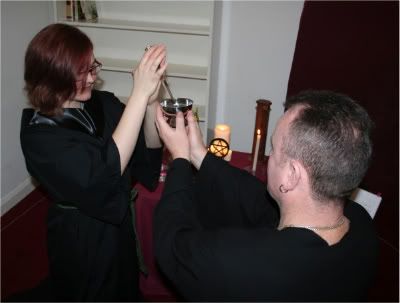 I'll try and remember how I made the robe and do another post with the instructions.