I'

ve been busy this last week working on a spur of the moment project. My beautiful nephew has just turned one and I was struggling to come up with a present for him that would actually be useful. He's already got about a million toys and things so I didn't want to add to the pile. I finally settled on something decorative for his room. I decided to make a fabric wall hanging, he's not really into any specific things yet as far as I know, so I went for 'pets' as a theme. I decided bright colours were a must, and I'm hand sewing it all because it seems simpler than trying to figure out my sewing machine.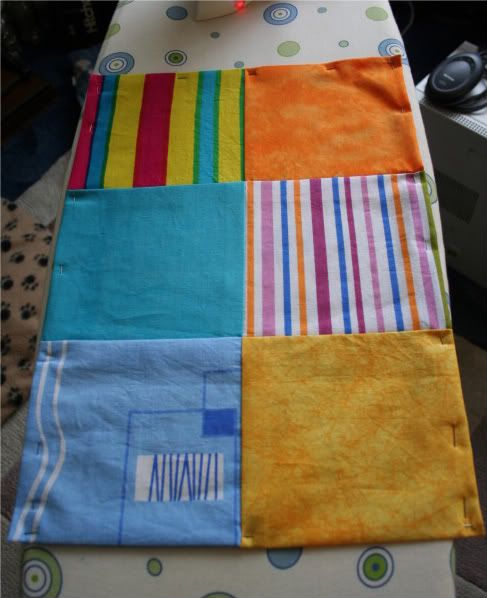 I bought all the fabric in one go so if it's a little garish it's because I didn't have much time for colour matching beforehand. I googled to find the animal designs I wanted to use and made some alterations to them to make them easier for me to cut and sew. I even got the iron out and pressed seams! I never usually go near the iron.
So far I've got the six backgrounds blocks stitched together, and all the animals cut and pinned in place. I've finished one of the blocks so far and I'm halfway on two others. I can see it taking another week to finish. I guess it would be a sort of mini quilt with appliqué but I'm making it all up as I go along.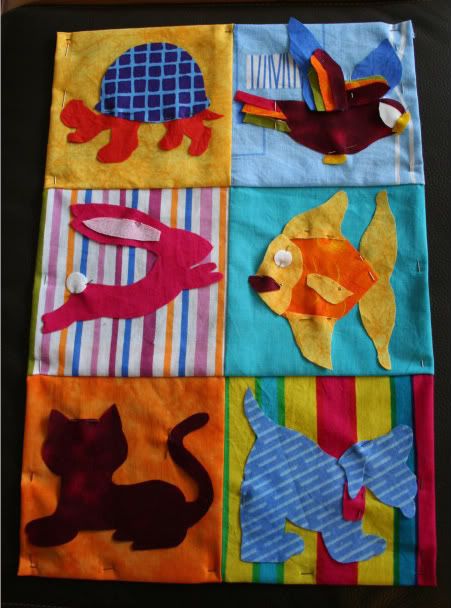 I enjoy sewing by hand but after this project is done I might dig out the sewing machine instructions again. Just because it's faster. Anyway, back to stitching.....
*WIP = Work in progress