I've finally made some rosehip syrup from the hips I gathered on my first foraging attempt. They weren't quite ripe enough so I had them in the freezer for a while and then thawed them out in the fridge before starting the syrup recipe. I didn't write down exactly what I was doing at the time but I'll give you a rough guide.
First I roughly chopped 250g of hips (you could possibly chuck them in a blender, or through a juicer to do it more quickly). Then I added them to a pan with 500ml of boiling water and let it simmer for 20 minutes. I strained this mixture through muslin, kept the rosehip water to one side, and put the solids from the muslin back in the pan with another 200ml of boiling water. I simmered this for another 20 minutes then strained it again into the first bowl of hip water.
I added 50g of sugar to the rose hip water and brought it up to the boil for 15 minutes. The only suitable bottles I could find were some empty Jack Daniels miniatures, so I boiled these in a pan of water to sterilise them. I poured the syrup straight into the hot bottles. Apparently they should keep unopened for quite a while. Each bottle should be good for a week once it's open.
This was just a trial run. You'd need to scale the recipe up to get a good amount if you wanted it to last all year.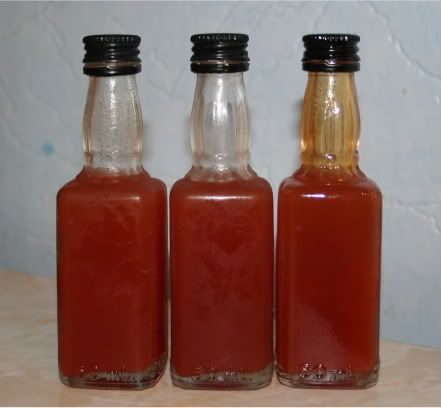 Meanwhile the turbo cider has been bottled. I'm not sure if I left it too long in the demijohn to get fizzy cider, I've bottled it with a teaspoon of sugar each to see what happens. It's not quite drinkable yet but it smells like cider.